People Worth Protecting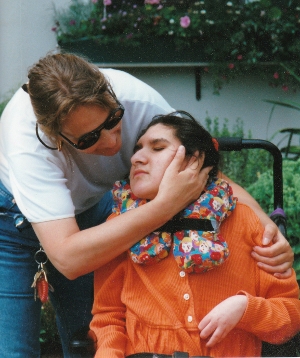 Background & Overview
Sign Our Petition
Please go to
The Petition Site
and sign our petition and show the world you care.


Home » Informative Articles & Documents » Disabled residents fighting eviction from the Lowell Sun

"Offering Up The Most Helpless"
The Lowell Sun Last Updated 8/02/2008
by Louis Putterman
GROTON --Three months ago, parents and guardians of 51 patients at one of the state's and nation's finest facilities for the long-term care of profoundly retarded and medically fragile children were shocked to learn that their loved ones, who have surprised doctors by living into adulthood at the facility, were to be victims of a lawsuit that should have nothing to do with them. They had been targeted by attorneys in a suit against the state (the Rolland suit) for possible forced movement into more "community-like" settings. These parents and guardians were far more shocked, however, to learn that rather than opposing the idea, an assistant attorney general of the commonwealth acting on behalf of Gov. Deval Patrick had agreed to it and had handed a list of 31 of their loved ones over to federal Magistrate Judge Kenneth Neiman, listing them as among the Rolland class members deemed suitable to be moved during the next four years.
The parents and guardians knew much that Judge Neiman and state officials did not know. Had they spent time at the Seven Hills Pediatric Center, the judge and officials might have realized how improbable it is that any of these patients can benefit from being moved into group homes, and how likely it is that virtually all would have their lives dramatically shortened by such moves. They would have understood that none of these individuals can speak, none have the cognitive level to grasp or express the ideas of normal human communication, all are non-ambulatory, dependent on nursing care for every function, and in need of constant medical monitoring by doctors as well as nurses. They would have seen that all receive day programming in an on-site school and are involved (passively and in their wheelchairs, of course, since they have no purposive muscle control), in after-school activities such as musical performances. They would have found that they make as many nurse-attended off-site trips as their health allows, and are cared for by a dedicated, respectful staff of nurses' aides, nurses, therapists and doctors, with low turnover.
Instead, the judge, attorneys, and officials of the Department of Mental Retardation did not visit Seven Hills Pediatric Center before approving the plan. And despite the fact that their agreement lists as criteria for consideration "opportunity for meaningful participation in aspects of community life," "presence or absence of an advanced medical condition that would have a significant adverse effect on the individual's safety," "the presence or absence of fragile health condition such that the main supports are nursing services for medical and basic needs," and "the presence or absence of a substantial risk of substantial transfer trauma which cannot be mitigated by individual clinical intervention" -- any one of which should have disqualified the Seven Hills patients from the Community Placement List -- DMR chose not to conduct serious evaluations when drawing up its list for Judge Neiman and the court monitor. Then the judge accepted the benevolent-sounding argument of DMR Commissioner Elin Howe that "ability to enjoy the same kind of quality of life and integrations with their community that all of the rest of us that live in the Commonwealth do" is among "the benefits to individuals of life in the community."
How could the DMR have judged 31 Seven Hills patients to be good candidates for movement "into the community" when its own staff had concluded annually up to the present that each was most suitably placed where they are and had noted this was the wish of guardians? And how could the judge assign decisions on who to move, among those already certified for skilled nursing care through an intensive Medical Review Team process involving multiple medical disciplines, to an agency whose staff has no medical training? The language of the settlement agreement suggests that DMR agreed to sacrifice these 31 and other profoundly retarded individuals in order to win time from the plaintiffs' attorneys, who earn hefty sums burnishing national reputations as de-institutionalizers. Offering up these 640 individuals, including our loved ones, on a fixed timetable was easier and less expensive for DMR than achieving the higher standard of care dubbed "active treatment" required by federal law. The settlement allows this standard to be postponed for up to four years while transitions are under way.
My daughter cannot speak for herself. She can't know that the rest of us are told that we live a country in which the rights of the individual are protected. She'll never have to try to understand why the government of her state packaged her and 759 individuals into a judicial class from which they are not free to exit, and how it decided, without first conducting serious medical evaluations, that precisely 80 percent of them, a number plucked from thin air, will benefit from being moved from their current homes. Are such agreements constitutional? Does the public abide by governments that enter them?
Pretty language pretending that it is all for the benefit of the patients may have fooled Judge Neiman, but investigation makes clear that it is all about saving the state trouble and putting more money in the hands of group home advocates. The state will save money because our children will not live long in group homes. Some funds can then be transferred to programs for less profoundly retarded individuals. Quite possibly more will benefit than will die, and public discussion of such issues is certainly permissible. But let's not pretend that it is done in the name of the victims; let's call it what it is: a sacrifice of the most helpless.
Louis Putterman is the father of a 24-year resident and patient at Seven Hills Pediatric Center and a professor of economics at Brown University.